Tue, 15 Jan 2019
The Residential Destinations that Dominate Saudi Real Estate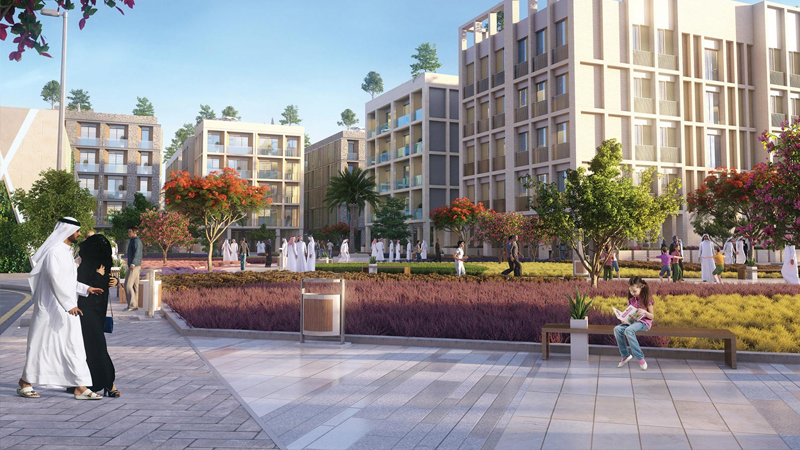 The Saudi Arabian economy is seeing the best growth in years and sustainable real estate investment opportunities in the Kingdom are now in sight, thanks to the futuristic Saudi Vision 2030. A marked increase in residential development and investment in cities, such as Riyadh, Jeddah, Mecca and Medina is driving conversations about the best residential destinations and communities to live and work in.
Whether you are approaching your first property purchase or looking for a potential investment property with good rental yield, you can find a wide range of promising ownership and investment opportunities in some of the best real estate destinations in the Kingdom. As a top developer in Saudi Arabia, with a legacy of over two decades and an experience that encompasses thousands of housing units in several master planned lifestyle and residential communities in the Kingdom, Dar Al Arkan has built residences that continue to inspire living:
Residential Communities That Offer More Than a Home
When it comes to helping you find the best gated communities and master-planned residential destinations, no one does it better than Dar Al Arkan.
Riyadh punches well above its weight, not just as the capital city but also a global city of Saudi Arabia. You can easily find a new place to call home as well as an extraordinary real estate to invest in these residential communities in the Saudi capital. Shams Ar Riyadh, conceived as the first-of-its-kind smart residential gated neighbourhood in Riyadh's Al-Dareiyah province, spans more than 5 million square metres of palatial residential units that offer more than an exclusive lifestyle.
Shams Ar Riyadh has all the luxury amenities that you'd want in an exclusive residential community environment, including easy access and connectivity to the city's prime lifestyle destinations and top attractions, lush green walkways and landscapes of Wadi Hanifa, children's play areas, schools and advanced educational facilities, clinics, government offices and mosques, vibrant retail centres, and the finest of international restaurants and cafés. Shams Ar Riyadh's most notable residential offering is Mirabilia, a collection of custom built luxury residences in the Bella Vista district ranging from 300 to 1,600 square metres, with three to five bedroom villas whose interiors have been designed by Italian fashion house Roberto Cavalli.
Parisiana Riyadh is one of the most upscale, mega integrated residential communities in Riyadh. Its centrally located along the lively King Fahd Road, 12 km from the centre of Riyadh, and boasts stunning Parisiana villas (four bedrooms) and Parisiana apartments (two to four bedrooms) accessorized with the ultimate in luxury amenities. The development features a shopping and retail complex called Parisiana Boulevard, and is facing Al Qasr Mall, one of the largest malls in Riyadh. Other facilities include government offices, administrative buildings, a public park, four schools and six mosques.
Jeddah is not far behind in terms of its foothold in integrated residential development. Shams Al Arous is a new integrated community development located in the east of Jeddah city, on Palestine Street. The residential area takes the level of luxurious residence to an entirely new level and allows you to reap the benefits of exceptional public service amenities including public parks, entertainment and shopping centers, delightful restaurants, schools and mosques.
Dar Al Arkan's online representatives are available everyday to answer any queries and concerns you may have regarding real estate properties for sale in Saudi Arabia. Alternatively, you can check out the latest real estate offers online and shop at our e-sales center, and stay up to date with our Social Media channels in Instagram, Facebook and Twitter.