Sat, 15 Aug 2020
Dar Al-Arkan ranks among the top 30 most powerful brands in Saudi Arabia and the UAE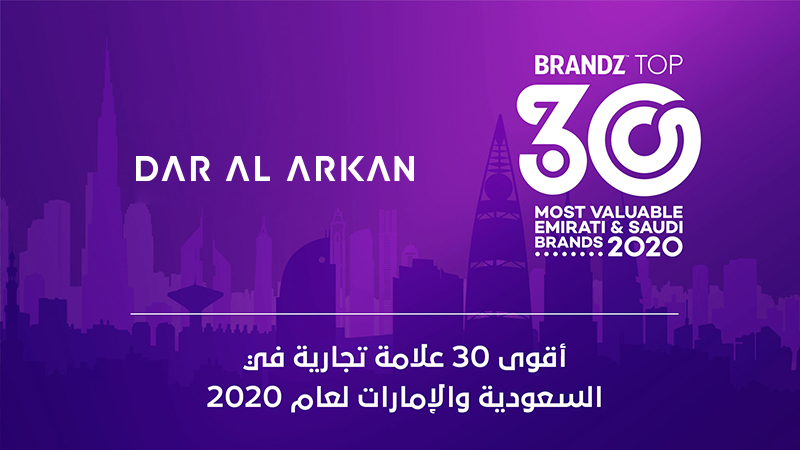 Dar Al Arkan, KSA's leading real estate development company has been selected as one of the most valuable brands in KSA and UAE. The company was also ranked as the only Saudi developer in the Brandz report released by advertising group WPP and research company Kantar. The report's valuation methodology studied 343 brands from 19 different sectors and combined 12,000 consumer insights with rigorous financial analysis.
Dar Al Arkan has significantly influenced the region's real estate development sector since 1994. It also collaborates with prestigious brands such as Roberto Cavalli Interiors.
Chairman of Dar Al Arkan, Mr. Yusef bin Abdullah Al-Shalash, commented: "We are extremely proud that Dar Al Arkan has achieved this important historical milestone. It confirms our firm commitment to innovation and to strengthening our pioneering role. Brandz choice reflects both the growth of the company and the significant value we provide to customers and society."
Dar Al Arkan is spearheading technology that will enable the entire real estate buying process, from viewing through to closure, via a digital portal. Its many unique projects include Shams Ar Riyadh which extends over 5 million square meters. The luxury, mixed-use development includes commercial areas as well as a smart residential neighbourhood offering advanced connectivity throughout its exceptionally vibrant community.
Brandz report on the top 30 brands is the most valuable report in the UAE and Saudi Arabia, and is the only methodology used by Bloomberg financial services experts to guide future investment decisions for investment managers. This report provides a benchmark for evaluating brands that have grown up in the Middle East and whose influence, in some cases, has spread outside the region. Based on consumer reviews, Brandz analytics enables companies and businesses to determine the strength of their brand in the market, and provides clear strategic guidance on how to enhance long-term value.
About Dar Al Arkan Real Estate Development Company
Dar Al Arkan Real Estate Development Company is a Saudi joint stock company, active in real estate development and headquartered in Riyadh, KSA. The company was founded in 1994 by six prominent business families who have, between them all, vast experience in real estate development. Its activity is to purchase and own real estate and land, general contracting, construction of commercial and residential complexes. Throughout its long history, the company has executed a number of successful real estate projects and contributed to the development of efficient real estate solutions for the regional market, through more than 30 commercial, residential, and real estate projects.
Dar Al Arkan Real Estate Development Company is a major contributor playing an important role to help achieve the goals of Vision 2030 in regard to real estate development.